No, I am not writing again and, frankly, wish I could just find someone else to take this thing over and run it with the respect it deserves. Still, I am busy with work and not being funny so I don't foresee this bitch coming back to life. Now, that being said…
I spent the first quarter of the Cardinals at Vikings game talking with Steven's older brother about the game. The one team I support that I have never really enjoyed watching with others has been the Cardinals. Even when the Dbacks were atrocious, it was almost amusing to watch each game and wonder who would be the reason for the meltdown each night — our atrocious bullpen or a big swing strikeout with guys on second and third?
I think baseball offers that kind acceptance because you have a long season to really process that you've got no chance and, when the reality settles in that you've set the MLB strikeout record in late July, you can just write off the season knowing that pretty much the same players can be division champions next year.
Baseball is just like that. Long season, not every game matters, summertime, and teams made up of decent players can have a chance. Case in point: Phillies and   Yankees are out in the first round of the playoffs to a couple of wild card teams.
But the NFL doesn't offer that. It's all desperation and hoping you have a chance until week 13, at the earliest, when you are finally mathematically eliminated. And as someone who came into Cards fandom with the drafting of Matt Leinart (that wasn't why — it was just the first draft I really cared what the Cards did so I use it as a timeline reference), I generally felt that the team was doing the right things — new stadium, replacing Green with Whiz, and, most importantly, giving Warner the reigns and making the Super Bowl — so I didn't care to watch the game with people who looked at the team the same way they had when Plummer ran the offense.
As a point of reference, it's similar to watching Sean Miller's first season (or KO's season) with the U of A with old timers who just couldn't accept that even the Wildcats need a rebuilding season.
The year after the Super Bowl, we still won the West and it was obvious that Warner was in his last season. No one really expected a second trip to the Super Bowl — especially knowing that the Saints, who were just Drew Brees and a bunch of thugs, would load Warner up with late hits early in the game, just as they had done with old/injured quarterbacks all season — but it felt like we had a good foundation in place for the franchise to feel like it finally turned the corner and for Leinart to finally be mature/experienced enough to keep us from sliding into….well, exactly what we slid into.
Warner retired, we were without offensive direction after KC poached Todd Haley to be their head coach, and Derek Andersen was picked up to compete for the starting QB positions. As soon as camp started, the DA/Leinart debate began. DA has a cannon for an arm and, with some coaching, would deliver it to our above-average receiver corps while Leinart was still too immature and only threw check-down passes. Or, others argued, DA has one fluke good season with the Browns years ago and is an interception machine while Leinart knows our system, is always maturing, and can manage the game well enough.
Leinart was cut by the end of preseason and the consensus was that he just never was, and never would be, Whiz's guy. I, for one, didn't like the decision as, at the very least, DA was not proven to be better than Matt so why not keep them both?
But — and here comes the real reason for my disgust with the franchise — the ownership was surely on board with not keeping Matt on as a backup because he had a fat roster bonus in line had Whiz not cut him. It was Leinart starts or Leinart goes.
Now that's just poor management.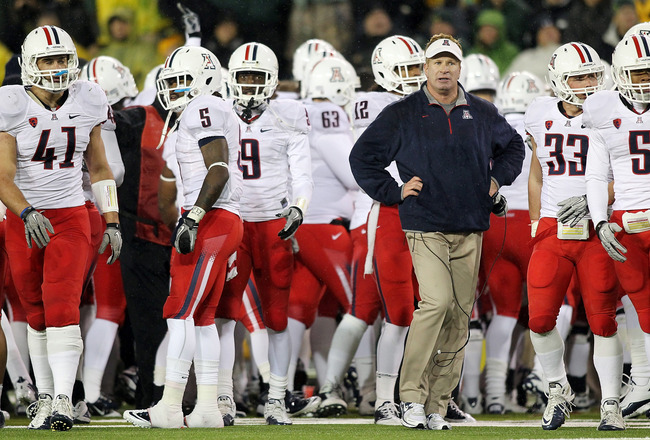 And, frankly, the Cardinals franchise has had poor management for years and nothing is going to change. I gave them the benefit of the doubt but it's quite clear that Warner was the reason the team made that Super Bowl run (we haven't run a flea flicker since he left). The year after his retirement was a straight disaster with DA at the helm and I was ready to walk. Fuck you, Bidwell family and your family business of running a bad football team. Now I know how people who are dragged to eat at Upper Crust Pizza feel. Fuck that place.
But then I got excited when we 'won the Kolb Sweepstakes' — trading off the only player I owned a jersey for (it still hangs in my closet — I don't know what the hell to do with a Cardinals DRC jersey at this point. Stick it with my Bob Dole campaign signs?) and a draft pick for a potentially good quarterback who may be able to win now and keep Fitz from jumping ship. It was something and I was just glad to see the front office making moves that seemed to reflect a desire to improve now and not just return to the list of usual cellar teams — Cleveland, Cincinnati, Jacksonville — that seem to embrace their pathetic status quo.
A Kyle Orton trade would have also been acceptable.
And here we sit, 1-4 though week 5 (with our only win being a hold-on win at home in Cam Newton's first NFL start. Granted, Fat Donovon McNabb's jersey was covered with KFC grease so we couldn't tie him up, yesterday but that's no excuse for perpetual turnovers.
So, in three days span, the Dbacks were eliminated, the Wildcats were beaten by a winless OSU team, and the Cardinals gave up 28 in the first quarter as the Vikings beat them for their first win of the season. The only saving grace in all this was that the Diamondbacks far exceeded expectations this season and are trending upwards so you can just be happy for a relatively successful season.
But for the other two teams, this will not stand. For Arizona, the reception of the play action pass that moved OSU's offense into field goal range one play after they recovered a generic squib kick 16 seconds before the end of the first half, while already leading 24-6, marks the exact moment University of Arizona football fell into an absolute and irreversible free fall. This era of Arizona football has topped out (and we only put off Peak Stoops this long because we were lucky enough to get Nick Foles on a transfer) and when do my basketball season tickets arrive? As I explained, the Cardinals are infected with failure from the top so any expectations for success for this team is out the window.
I've decided to replace my Arizona football fandom with support for Alabama (Roll Damn Tide). The two things that really draw me to 'Bama are: (1) That they completely disregard NCAA rules — which is fine because the rules are ridiculous and don't deserve the respect of being followed — in favor of winning; and, (2) Their fans are crazy about supporting the team AND hating their rivals. People talk about the US/ASU rivalry. It's no rivalry. Domestic terrorism — in poisoning the trees on Auburn's campus and then bragging about it on the radio — is rivalry. I support this.
I am looking for an appropriate Tide tee shirt to wear on game days from now on.
But replacing the Cardinals is proving to be more difficult. For one thing, there are less NFL teams to pick from, but I also find that many teams are simply not worthy of my fandom. Take, for example, all the teams in the northeast. With the exception of the Baltimore Ravens (because I love The Wire), I could never root for a team from that region.
Call it my showing of solidarity with the Occupy Wall Street crowd.
And since I am not only interested in winning (I have Alabama to pacify this), it's tough to find teams with serious personality where I truly desire to root for them. I mean, the NFL is much more of a business with strong central league-planning that leads to many generic attributes spread across all teams. As such, some teams are not unpalatable, they just aren't palatable.
Vikings, Chiefs, Titans, Rams — these are teams that just don't appeal to me. What do I care about any of them? They have no history. They have no stars. They have no personality. They are just there to fill out the schedules of the Packers, Steelers, and Patriots.
Of course, some teams do simply exist to be hated by me: Cowboys (because of their fans), Redskins (because indians are bad), Jaguars (because I hate Jacksonville), and 49ers (again, fans; this time because they are ghetto trash). So they are out.
And, even after eliminating about half the league, no one stands out as a clear front runner for my fandom. I like that Green Bay has municipal ownership and loads of success (pretty much the anti-Cardinals) but their fans are kind of annoying and their uniforms are ugly. I like that Big Ben ride motorcycles without a helmet and sexually assaults women in college hangout bathrooms but I don't like Hines Ward (even before he went on DWTS) and I find the rest of their franchise not worth my attention. Plus, again, their fan base is a little tough to swallow.
In fact, the more I think about it, the less I really want to be a fan of a team with recent, large scale success. Fortunately for me, I suppose, most successful teams are on the east coast.
I keep wanting to support the Dolphins but there is just nothing about them that demands my respect. My next thought is to go with the up-and-coming Buccaneers but I don't know anything about Tampa Bay and, I think, the only reasons I want to like Miami is because I liked the place the one time I visited and that I had a Dan Marino tackling buddy when I was a kid (I used to tag team with him against wrestling buddy Hulk Hogan and wresting buddy Ultimate Warrior).
Cincinnati? Seems like a good fit — low expectations, lots of criminals, and sweet helmets. But, with ownership that bad, they won't have such a colorful roster for long and, soon enough, they'll just be another Cleveland Browns.
Since Train came back from college a fan, I've always liked the Bears. Classic uniforms, outdoor stadium in crap weather, a huge asshole for a quarterback who gets sacked a whole bunch and blames receivers for incompletions on arrant passes, and still manages to be a playoff team. I even like their alternate jerseys.
But, I fear, if I become a Bears fan, I'll actually care about the team and become upset when they have bad seasons or make retarded trades (i.e, their 2010 draft class for Jay Culter). And that isn't what I want. These days, I watch the NFL because I gamble on the NFL. I quit fantasy football because my desire to see my fantasy players perform was adversely-effecting my sportsbooking. I quit betting on Cardinals games because I found my emotions causing me to make mistakes in these wagers as well. I don't need that issue again.  For these reasons, I am also cutting the Colts, Texans, and Falcons.
Which is too bad because I really like the Falcons' uniforms and Matt Ryan.
I sound picky, I know, but this is a big deal. When you support your local team because they are your local team, you get a pass on picking a loser. I tell people my team is the Cards and they go, "Oh, okay." If I told people my team was the 5-11 Broncos, they would ask what the fuck was wrong with me and the move to trade up to get Tim Tebow.
I like Tim Tebow. I like that he is a super nice guy and isn't immediately succeeding in the NFL. I like that he is back up to Orton and, since he gets a couple plays a game, everyone insists that there is a controversy even though Orton is obviously a fine starting QB. Even with all the press that had swirls around him, he is still a classy kid on a bad team. He's the anti-Cam Newton.
Speaking of which, Carolina's center field has the NFL logo. What is this garbage? Also, I think Cam will get figured out. Everyone talks about how much he will grow and how great he will be but I think that is forced optimism by 'experts' who insisted that he wouldn't transition into the NFL and, now that he has, are all over the Cam's Jock bandwagon. Cam is like a young home run hitter who comes up from AA. No one knows how to pitch to him in the first season and he rips off a bunch of long homers. After that, they get his number and his name is revealed to be Mark Reynolds.
Cam Newton will be Mark Reynolds. And he is stupid. Too stupid to know how to play like a rookie, apparently. But also too stupid to transition into the leader of a good team. Also, Steve Smith is a straight up dick. And not like the kind of dick that I would surely root for if he were on my team. He's the kind of dick where you say, "Steve, you are on a perpetually shitty team. Yeah, you'll never have to worry about choaking on the big stage that you will never get to; so enjoy thinking about 'what could have been.' But I still don't see this as an excuse for you to talk shit after every single play. Drop the small man complex and play the stupid fucking game."
Plus their logo is retarded so Carolina is out (though I will admit that I tune in to watch Cam when no other interesting game is on).
Lions? No, I might as well be a Cubs fan.
Eagles? I like love that their fans are complete haters. And I like Andy Reid. But I can't actively choose to root for Michael Vick. I know, debt paid and all that — I'm not saying anything other than, I can't actively choose to root for Michael Vick. But, I do have a couple weeks to make my decision (with the Cards on a bye next week) so if Vick were to be dismembered next week, the Eagles would definitely be contenders.
Other strong candidates are the Raiders (because of Raider nation and all their really fast draft picks — plus being from a shithole like Oakland) but I am curious to see the direction of the franchise with the passing of Al Davis and also I don't like how they look with their white jerseys. Still, it's enticing to think that my political aspirations may some day be met in taking the throne as mayor of Raider Nation.
Chargers? Again, prick at QB and nice uniforms. Also, I like San Diego (I mean, who doesn't like San Diego?). They seem to win but keep expectation low enough. But Matt Dyhr says my older brother is a fan and, since he still makes rips at Thanksgiving that I chose engineering because he did it, I'm reluctant to 'Bolt Up', as they say.
Seahawks? Good ownership, good stadium, good city, won the West with a losing record then beat the Saints, ugly uniforms in a cool way, and, piggybacking on my praise for Alabama above, Pete Carroll jumped ship for the NFL about seven weeks before USC got slammed with NCAA sanctions (for stupid shit). I like that Pete is bringing many of his college players back (with seemingly good success) and I even read his book, Win Forever, which, despite being crap, is very very good.
In fact, for the only two knocks I have against the Seahawks, neither of them are the fault of the franchise. First, that they are in the NFC West and it's going to be tough to have to actively root against the Cardinals twice a year. It's like breaking up with your ex, wanting to still be friends, but then hoping that your new lady knocks your ex's dick in the dirt when they face off in court. Second, I'm still pretty embarrassed about the disaster that was my big relocation to Seattle (a year ago this month) and, as such, I'm reluctant to grasp on to anything that reminds me of that experience/failure. But maybe I should just grow up and move. It's never been my style but we'll see how things play out.
Or maybe I just wait until LA gets a team and then just jump on that bandwaggon. I'm sure that team will be instantly hated for being the exploitation of a small market for the big city (who will surely blow millions in straight up waste on their new stadium) so it'd be funny to root for them.
Anyways, so that's what I got going on these days and this is the reason I decided to take the .com out for a spin this morning.